By David Kawika Parker
John Palmer Parker was the first foreigner to settle in Kohala. He went to maritime school and graduated as a merchant quartermaster. The new nation of the United States was just immerging as a commercial power in the world market. American merchant ships dotted many oceans and trade routes. John was a first mate on a small ship doing trade in India. He then changed and signed on to a Pacific merchant vessel. He first saw Hawaii in 1809 as he served as first mate aboard a Fur Trader heading for China. He made many trips to China and the Northwest Territory. At the start of England's War with the United States in 1812, the British Navy blockaded his ship and his shipmates for three years in Canton Harbor. In 1815, at the end of the war, he intended to sail back to America, however when they stopped for water and stores in Hawaii, John decided to leave his maritime career and remain here. He got the permission of Kamehameha I to remain. In time he met the Alii-Nui Kamehameha's great-granddaughter, Keliikipikaneolahaka (aka. Kipikane) and was allowed to marry her in a traditional Hawaiian ceremony. After prayers were said over them as the couple kneeled on the ground together, a white piece of kapa (bark cloth) was placed around them. When the two ends touched the marriage was completed.
John Palmer Parker
John and Kipikane were given a land grant of two ili (narrow parcels of land)(Makamaka & Ahulamiki), at Waiapuka, Kohala by Kamehameha. Kamehameha asked John to be a kahu (steward) over his private kalo (taro) patches in Waiapuka. Kamehameha also knew John owned a new rifle that he brought with him, and asked John, who was a good marksman, to assist him in shooting the wild cattle that became bothersome to the inhabitants of those living on the slopes of Maunakea. Captain George Vancouver had given a few cattle to Kamehameha eleven years earlier in 1794. Kamehameha placed a kapu over them as recommended by Vancouver. (The British had left a horse and some goats on earlier visits but none survived as the chiefs decided to eat them.) The common people were not allowed to kill the cattle or harm them. By 1815 the cattle had multiplied greatly and were now getting to be a nuisance. Kamehameha died in1819 in Kona during the time Parker was visiting him at his compound.
A few months after Kamehameha had died, Ka'ahumanu and Keopuolani, his two favorite and most powerful wives colluded with Hewahewa his Kahuna Nui (High Priest) to abolish the centuries old "Kapu Ai" on mixed eating. (Women and men were not allowed to eat together and certain foods were forbidden to them.) They saw the white women visitors on foreign ships break all the eating laws while on board. When Liholiho, Kamenamena II, agreed to sit down with his mother Keopuolani and his aunt Ka'ahumanu to eat with them, shock reverberated through the whole community. John P. Parker was there at that occasion and later related to missionary scribes on what happened there. These are the accounts that come down to us today. The Hewahewa and the ruling chiefs now had the confidence that the Gods were no longer powerful as no angry retribution was given. The chiefs then proceeded to burn all the idols and heiau (temples) on the island of Hawaii.
Kamehameha's nephew, Kekuaokalani, was given the charge to watch over Ku, the god of war that Kamehameha himself was caretaker. Kekuaokalani rebelled and refused to go along with the destruction of their ancient religion. War was started between the two factions and in a lengthy Battle of Kuamo'o was fought in Kona, Kekuaokalalni and his followers were slain. John Parker was at the battle and fought along the side of Liholiho. The end of 1819 left Hawaii in a religious vacuum.
In April of 1820, the ship Thaddeus arrived in Kona with the first group of Christian missionaries from Boston. Hawaii's religious vacuum was very opportune to the new religious group. (In time these missionaries would change the history of Hawaii forever.) The Reverend Hiram Bingham, the leader of the group brought a letter to John Parker from his mother Ann Palmer Parker in Massachusetts. Many years had passed since they saw each other and she longed to see her son. (Sadly, she would never see him again.) That touching letter is found in the archives at the Parker Ranch. John requested Reverend Bingham to marry him and Kipikane in a Christian ceremony. He did so and gave to Kipikane the Christian first name of Rachel.
Kauikeaouli (Kamehameha III), succeeded his brother Liholiho after his death in 1824. Kauikeaouli finally lifted the kapu on cattle in 1830. A few years later, in 1832, Kauikeaouli decided to hire more bullock hunters and also brought in some vaqueros (Spanish cowboys) from California and one gaucho visiting from Argentina, to teach the Hawaiians how to handle the horses and the cattle. The Hawaiians called the Spanish cowboys Paniola (after Espanol). Some cattle were kept in corals at Waiopuka and so Kohala could rightfully claim to have the first cowboys outside of Spanish America. (16 Years before the Texas cowboys). Ramon Baeza, one of the original vaqueros brought his family with him and his son married a Hawaiian woman from Kohala and many of their descendants still live in Kohala. The famous Sproat and Ramond families are descendants of Ramon Baeza.
By 1835 increased demands for meat and hides caused John Palmer and Rachel Kipikane Parker to move to Manaiole (Mana), Waimea. In 1846 King Kauikeaouli granted John Parker 2 acres of Mana land for $10.00,
For his wife, Kipikane, the King granted 640 acres, because of her chiefly status. By 1847 the Parker Ranch was a reality.
My grandfather Robert Parker Waipa was born in Niulii, Kohala on May 15, 1856. His mother was Mary Ann Kaulalani Parker, the only daughter born to John and Kipikane Parker. His father was Chief Kame'eiamoku Waipa of Kohala. His paternal grandfather was High Chief Waipa Nui, a second cousin to Kamehameha I. Waipa Nui served his Alii-Nui (ruler) as a Pukaua Nui (general) as the supply general, responsible for building all the war canoes and supplying the foods and dry goods for the army. Waipa Nui's mother was Kaleipule the sister of the royal twins Kame'eiamoku and Kamanawa. These High Chiefs were Kamehameha's uncles and two of the five advisers on his Aha Ula (sacred inner council). The are the two chiefs seen on the Hawaiian Royal Coat of Arms holding the kahili (feather standard) and the spear.
Robert Paker Waipa
Robert was brought up on Parker Ranch with his siblings. In 1776, Crown Prince William Pitt Leleiohoku, (the designated heir apparent to his older brother King David Kalakaua,) visited Parker Ranch. Robert was his companion and guide while he visited. Only two years apart in age they got along well. One day while they were hunting wild dogs on the slopes of Maunakea (the dogs were ravaging the cattle), Robert rode at full gallop alongside a wild pack of dogs and shot several as he hung under his horse. The Prince was impressed at Robert's superior riding and marksmanship abilities. The Prince decided he wanted Robert to return with him to Honolulu and become his Compte de Aid (closest assistant). Leleiohoku begged Robert's mother Mary Ann to allow him to do so. He stayed two more weeks till Mary Ann reluctantly consented.
Prince William Pitt Leleiohoku
Since Prince Leleiohoku was the hanai (adopted) son of Princess Ruth Ke'elekulani, the two young men stayed at her home. The following year the Prince went to San Mateo College in California to further his education, tragically he took ill there and died. Ruth had an attachment to young Robert and he was sent to the Jesuit Catholic Seminary located in Ahuimanu, Kaneohe (later to be Saint Louis School). After school Robert served his King Kalakaua in the Palace Household Guard. He got his first commission from the King as a 2nd Lieutenant on April 1st 1885. He rose in rank rapidly going from Lieutenant to Captain then to Adjutant in three years. He played an important role in saving the Palace in the Wilcox Insurrection of 1889 and was rewarded by the King and the Queen with two medals. (Still in the possession of his family). In 1891, King Kalakaua died from illness in San Francisco. When Liliuokalani ascended the throne, she brought in her own Palace Guard and Robert was dismissed. He served the kingdom as Captain in the Honolulu Police Department. After the Overthrow of the Monarchy in 1893, Robert continued his service with the Police Department. Robert finished his career as Senior Captain of the Honolulu Police Department in 1909. He rode his horse as Marshall of the first Kamehameha Day Parade in 1922, He continued as Marshall for a few years more till he could ride no more; He died at his home on Waipa Lane in Honolulu on June 6, 1937. He is buried at Oahu Cemetery in Nu'uanu.
On Waiʻāpuka Tunnel:
1. Tunnel 200 ft. long from Waikama Stream through a separating high ridge to taro lands at Waiʻāpuka Ahupua'a (land division).
2. 19 vertical shafts approximately 20 ft deep.
3. Old name before Kamehameha/s time,
4. Sources say Kamehameha built it is doubtful. Other sources name Umi-a-liloa as the builder while still others claim the Manahune (First settlers) built it during ancient times.
5. Sproats (Kamaka or Kindy?) told me shafts were also induction for the diggers and vent holes for fires started in side to heat the basalt areas that they encountered during the digging. Other parts of the tunnel were softer pumice from ancient volcanic action.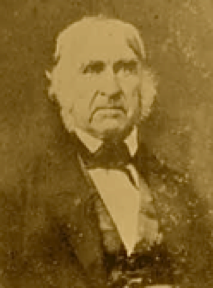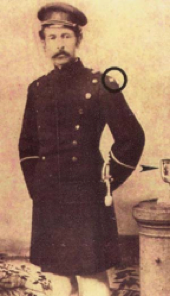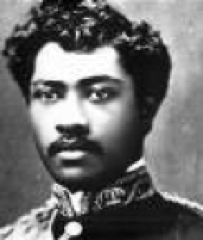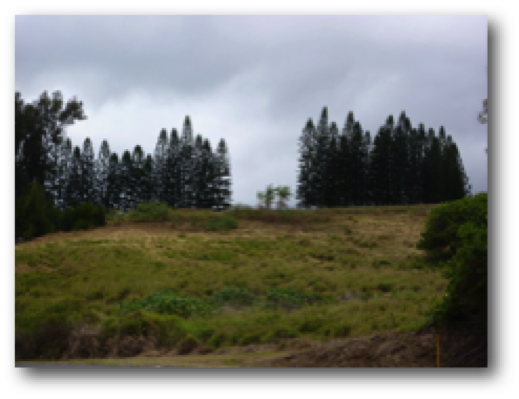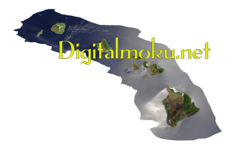 Waiʻāpuka and John Palmer Parker