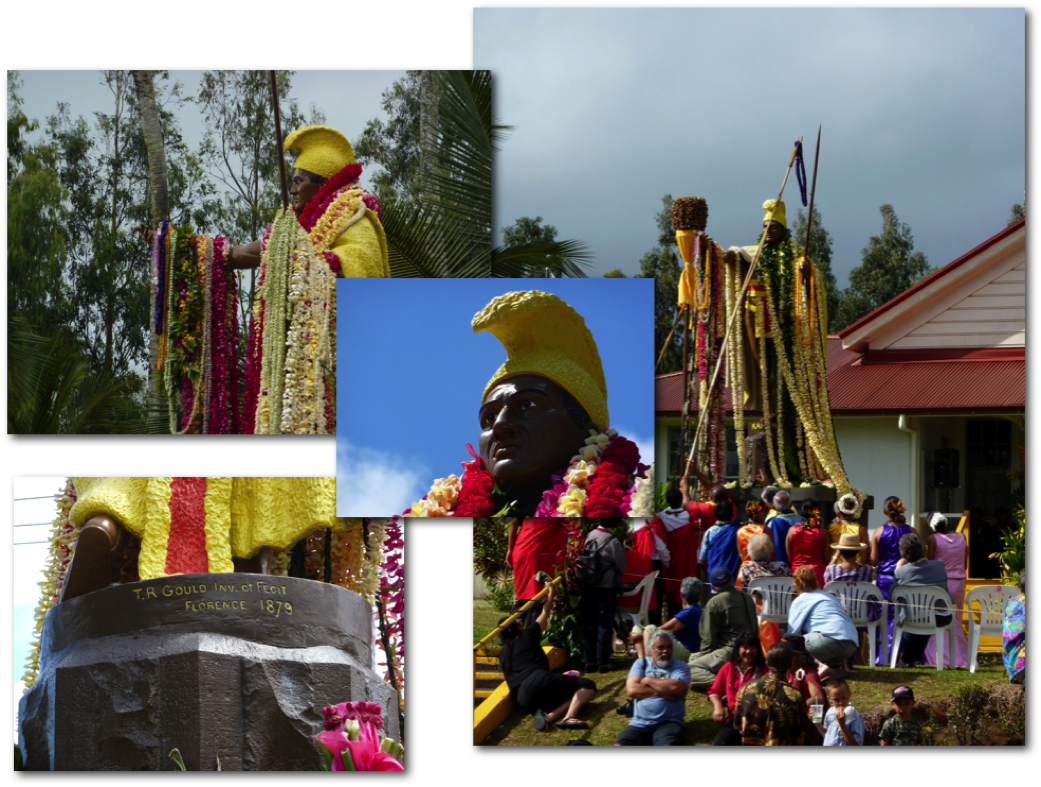 The Kamehameha Statue
David Kawika Parker
In 1878, the100-year commemoration of western contact by Captain Cook in Hawaii, Walter Murray Gibson, the Lahaina Representative to the Hawaiian Legislature, put on the floor a recommendation. This was to commemorate the event with unveiling a statue of the most famous Hawaiian in the world; Kamehameha I. King David Kalakaua approved the commission. The King sent representatives to Boston to see Thomas R. Gould the famous sculptor to see if he would accept the commission, Gould did accept the commission for $10,000.00. He moved to his studio in Rome to start the statue in1879. The statue was cast in bronze in Paris and shipped to Hawaii. Unfortunately, the ship "Handel", carrying the statue burned and sunk off Stanley, Faulken Islands on November 13, 1880.
Walter Murray Gibson
The news was met with disappointment in Honolulu and a new statue was cost $7,000.00 and 4 additional bronze plaques with different aspects of Kamehameha's accomplishments were ordered for $4,500.00 by using the $12,000.00 insurance money from the original lost statue. The mold of the original was used. Before the second statue was shipped to Honolulu, Captain Jarvis of the ship "Earl of Dalhousie" arrived in Honolulu carrying the original statue. He was bringing Portuguese immigrants to work the cane fields in Hawaii. He stopped in the Faulken Islands for fresh water and stores and saw the statue standing in front of a store. The Port Pilot of Stanley had retrieved it from the wreck. Captain Jarvis knew who the statue was and bought it from the Port Pilot for $500.00. The immigrants aboard Captain Jarvis ship were scared of the 8 -1/2 foot statue and had to be calmed by Jarvis. Back in Honolulu Kalakaua was delighted with the good news and had Gibson negotiate for the damaged statue. Jarvis was paid $875.00 for it. The right hand was broken and the cape had a hole in it during the move and had to be repaired. While repairing the statue the replica statue arrived. Too late for the 100-year commemoration, King Kalakaua unveiled the new statue on Feb. 14, 1883 in front of Aliiʻohale Hale as part of his coronation ceremony.
King David Kalākaua
Now that there were two statues in Hawaii it was decided most appropriately that Kapa'au, North Kohala should get the original statue since it was the home of the great conqueror. It was unveiled in Kohala by King Kalakaua in Kohala on May 7, 1883. The King took 118 of his Palace Guards under Major Kinimaka and 25 of his Household Guards under Col. Robert Hoapili Baker (He was one of two models the King sent photos of to the sculptor Gould for the statue). The Royal Hawaiian Band also went and many days of festivities followed while they were in Kohala.
Col. Robert Hoapili Baker